What's new in Shopify 2.0?
Shopify is an eCommerce platform that provides merchants with an effortless way to create and set up an online store. In addition, it gives merchants an end-to-end solution with a robust backend system that helps merchants sell online seamlessly. On June 29th, Shopify introduced its most extensive update in history at the Shopify Unite 2021 event: Online Store 2.0.
Online Store 2.0 comes with a new set of tools that helps developers create a much better experience for merchants on Shopify, such as a better theme editor, custom metafields, and a lot more. Here's a list of some of the new features that come with the Online Store 2.0 update: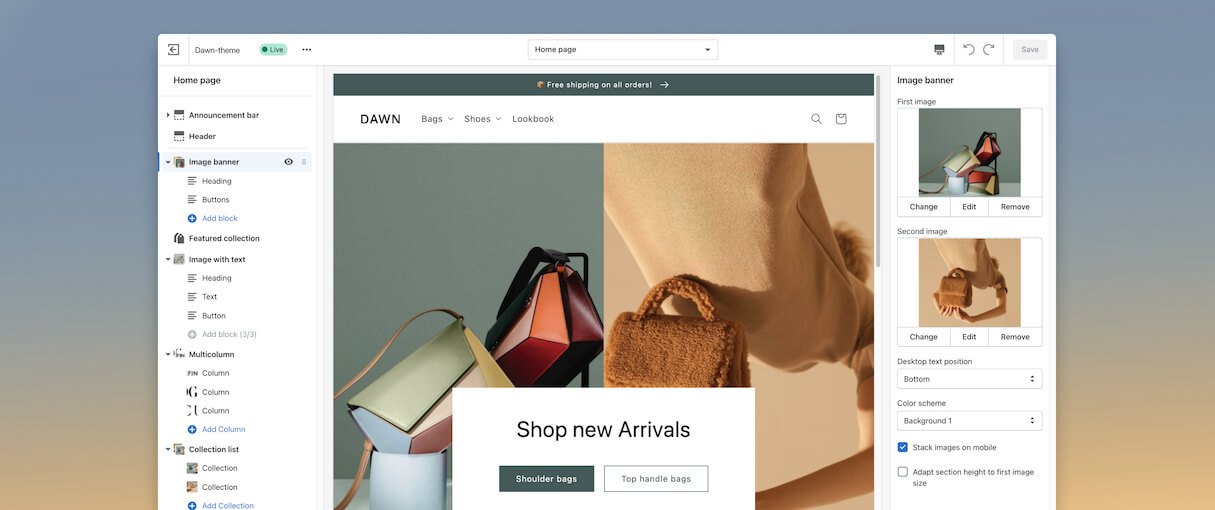 Custom Metafields
When you create a new product in a Shopify store, there is only one textual input field for the product, which is the product description. Similarly, collections could only have one input field to describe the product collection, known as the collection description.
Adding additional information about products wasn't possible without paying a monthly recurring fee for a third-party app such as Accentuate Custom Fields or without sacrificing user experience (UX) for the merchant. In addition, adding custom fields required merchants to have the technical knowledge to update any content if they did not use a third-party app.
With the release of Shopify 2.0, it's now possible to create as many custom fields as required, at no additional cost, for:
products
variants
collections (Coming soon)
customers (Coming soon)
orders (Coming soon)
This means that any additional information that cannot be added through the core editor can now be added and presented on the site through custom metafields.
Let's say you want to add a Care guide for each product. You can do this by creating a custom metafield for a care guide. After adding a custom metafield, you can also select the type of input for each one. Some of the input types for custom metafields include:
Single-line text

Multi-line text

Number

URL

File

Reference

Colour
Since a Care guide would certainly be more than a single line of text, you can select the Multi-line text as an input field.
After setting up custom metafields, if you click on any of the products from the dashboard, the metafields inputs will appear at the bottom of the page.
Storefront product filters
One of the limitations on Shopify was that you could only filter products based on the product tags added to each product.
With Online Store 2.0, Shopify now allows us to filter products on the storefront without relying on product tags, based on the following product information:
Availability
Price
Product type
Vendor
Variant options
For instance, if a product had the options Size and Colours, we could natively implement functionality that allows users to filter products within a collection by the available sizes and colours — without relying on a third-party application. Not only can we filter by the product type or variant options, but we can also add a range filter on the product's price and filter by availability.
Improved Theme Architecture
On Shopify, dynamic draggable theme sections could only be added to the home page, which is rendered through the index template. On other page templates, such as the product or collection templates, only fixed theme sections could be added. This means that merchants were not able to move content around on any of the pages, unless it was the home page. This was limiting merchants in how they wanted to present content on their stores.
Online Store 2.0 includes theme sections on every page, which means that merchants can now drag, and drop theme sections across any template.
On Shopify, merchants used the theme editor to edit any dynamic copy across the store when updating content on a Shopify store. However, although you could edit the text, it was impossible to add flexible content, such as content that requires specific product data.
With Online Store 2.0, merchants can now add dynamic, flexible content within the theme editor anywhere in their stores.
App blocks
To add any out-of-the-box features to a store built on Shopify, developers needed to install third-party apps from the Shopify app store. However, apps were independent of the themes. As a result, integrating apps with themes was a time-consuming process, as developers had to integrate apps manually.
Online Store 2.0 introduces App blocks, which facilitates the integration process. App blocks are components of installed apps that can be added, removed, or modified through the theme editor. This gives merchants the flexibility to add or remove app components without relying on developers to edit code.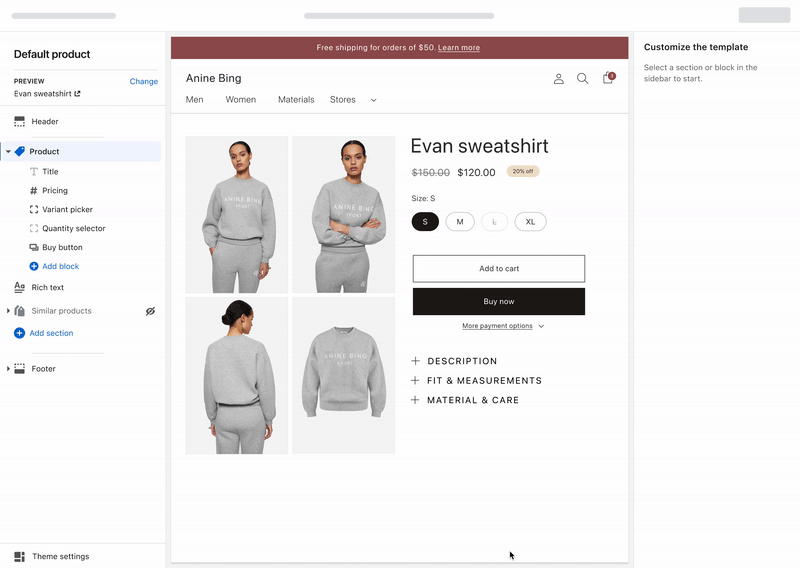 Developer tools
Lastly, Online Store 2.0 not only comes with features that improve the experience for developers as well. New developer tools and features include:
Shopify CLI
GitHub Integration
Theme Check
JSON templates